OIL AND GAS ASSET MANAGEMENT PLATFORM
SAFE | EFFICIENT | SUSTAINABLE
We understand that safety, sustainability, and performance are your top priority. We've helped hundreds of oil & gas companies achieve safer, more sustainable, more efficient operations with our accurate, reliable oil and gas monitoring and control platform.
On-Demand Webinar
Connecting Oil & Gas to Artificial Intelligence
Learn the real reasons why you aren't getting anywhere with AI.
ACHIEVE BETTER OIL & GAS ASSET MANAGEMENT
Sustainability isn't just about protecting the environment – it's about ensuring you have the people, resources, and operational strategy to produce clean, valuable energy now and into the future.
WHY WELLAWARE?
WellAware partners with oil and gas producers, transporters, and service companies to bolster safety programs, amplify ESG initiatives, and improve efficiency with our oil and gas monitoring solutions.
We tackle oil and gas asset management challenges in these key areas:
CHEMICAL WASTE
WellAware knows that chemical management is an important part of hydrocarbon production and transport.
Our platform monitors, controls, and automates chemical injection programs to minimize waste, enhance asset integrity, and audit chemical usage and performance.
WATER MANAGEMENT
WellAware helps operators reduce freshwater intensity, boost produced water recycling operations, and access innovative water sources.
Customers use WellAware technology to measure water consumption, improve water quality, and automate critical water treatment operations.
GREENHOUSE GAS EMISSIONS
WellAware enables operators both minimize emissions and track emissions intensities.
Our technology can be applied to monitor vapor recovery units, monitor methane and VOC emissions, automate LDAR program operations, and more.
EMPLOYEE HEALTH & SAFETY
WellAware cares about goal zero as much as our customers do. Our products help keep people out of harms way to reduce incident rates.
Our remote monitoring and control platform eliminates trips and equipment interactions required by manual processes, resulting in less windshield time, less fall risk, and less exposure to hazardous gases and substances.
SPILL PREVENTION
WellAware tracks all phases of the hydrocarbon liquids value chain, from production, to storage, to transport.
Our technology prevents tank overflows, enables sophisticated leak detect algorithms, and monitors containments to reduce spill rate and increase recovery rate through quicker response times.
GROUNDWATER PROTECTION
Underground injection control for produced water disposal and water flood is an important operational practice for many.
WellAware helps operators monitor well integrity, perform automated mechanical integrity testing, receive immediate alerts on casing leaks, and track total injected volume for regulatory reporting.
VENDOR ACCOUNTABILITY
Oil and Gas companies rely on contractors and vendors to support their critical energy-producing operations.
WellAware helps operators keep vendors accountable by providing transparent reporting on vendor activities, including custody transfer and deliveries of water, hydrocarbons, and chemicals.
REGULATORY TRANSPARENCY
Oil and Gas operators have a responsibility to provide transparent regulatory reporting, but gathering data can be challenging, especially for smaller operators.
WellAware helps producers, transporters, and refiners measure and report on critical regulatory metrics like production, emissions, and water usage.
REAL RESULTS FROM REAL OPERATORS
Our customers choose WellAware because we help them measure, achieve, and report on safety and sustainability programs while improving operational efficiency and financial performance.
Whether you're trying to optimize compressor efficiencies, automate H2S scavenger treatment, improve water recycling capacity, or protect groundwater sources, we have a technology solution to help you get there.
Click a story below to see how our customers achieved more sustainable results
CASE STUDY
Auditing Methanol Injection Programs
CASE STUDY
Leak Detection on Water Transfer Systems
CASE STUDY
Increasing Recycled Water Capacity
CASE STUDY
Detecting H2S in Refinery Operations
CASE STUDY
Detecting and Preventing Frac Bashing
CASE STUDY
Reducing Waste and Chemical Spending
CASE STUDY
Automating UIC Mechanical Integrity Testing
CASE STUDY
Automating H2S Treatment on Pipeline Operations
Auditing Methanol Injection Programs
CASE STUDY
PROBLEM
Energy Transfer Partners was getting poor results on their methanol injection program on natural gas pipeline infrastructure in the Permian Basin, due to wasteful and negligent practice from their chemical service provider.
SOLUTION
Energy Transfer installed WellAware On Demand Chemical to track methanol usage and injection pump health, identifying multiple instances of failed pump power systems or considerable over-treatment.
RESULTS
Energy Transfer identified areas of non-performance from their vendors and held them to account, reducing their exposure to financial risk and negligent contractor behavior.
Leak Detection on Water Transfer Systems
CASE STUDY
PROBLEM
Working for EOG Resources, Hillstone Environmental Partners needed a lightweight data gathering solution to feed high-frequency water transfer data to a cloud-based leak detection algorithm.
SOLUTION
Hillstone installed WellAware Remote Well Site Monitoring, tracking pipeline temperature, pressure, and flow rate in 5-second intervals at each pipeline terminal.
RESULTS
Hillstone was able to identify and prevent water leaks and track water usage for regulatory and billing purposes, reducing EOG's water intensity and bolstering their fracking operations.
Increasing Recycled Water Capacity
CASE STUDY
PROBLEM
Working for Pioneer Natural Resources, ChampionX needed a way to automate scale inhibitor injection across Pioneer's water infrastructure so they could avoid excessive windshield time and carbon emissions.
SOLUTION
ChampionX installed WellAware On Demand Chemical, automatically injecting scale inhibitor at precise concentrations based on fluctuations in water transfer volumes.
RESULTS
Pioneer was able to bring treated produced water into their water management system without scale precipitation, resulting in an increase of 30% in recycled water used for completions.
Detecting H2S at Major Refineries
CASE STUDY
PROBLEM
Arkema, a global leader in chemical solutions for the oil and gas industry, needed to monitor sulfiding chemicals injected into reactors in order to minimize H2S concentrations without having to manually sample process agents.
SOLUTION
Arkema used WellAware to monitor H2S analyzers, providing 30-second sampling data to their customers to indicate when the sulfiding catalyst had activated without manually sampling.
RESULTS
Arkema and it's customers – including Shell, Chevron, Valero, and ExxonMobil – were able to detect when the catalyst was active more quickly, resulting in safer operations and less downtime.
Detecting and Preventing Frac Bashing
CASE STUDY
PROBLEM
Goodrich Petroleum needed a way to monitor newly drilled horizontal wells to ensure that neighboring fracs were not interfering with their production and to avoid potentially catastrophic blowouts.
SOLUTION
Goodrich installed WellAware Remote Well Site Monitoring, tracking casing pressure, tubing pressure, and flow rates at 30-second intervals to enable highly-granular downhole data capable of showing well-to-well communication.
RESULTS
Goodrich was able to easily detect frac bashing by monitoring tubing pressures and prevent issues to both parent wells and child wells during flowback and production.
Reducing Waste and Chemical Spending
CASE STUDY
PROBLEM
SM Energy wanted to audit the injection of downhole chemicals, namely combination scale and corrosion inhibitor, to ensure that treatment programs were on track and audit vendor activity.
SOLUTION
SM Energy installed WellAware On Demand Chemical, monitoring well-site injection points and tracking chemical usage, pump calibration, and vendor activity.
RESULTS
SM Energy was able to reduce injection variance from over 30% to less than 5% without manual intervention, ensuring better asset integrity and reducing waste from over-injected chemicals.
Automating UIC Mechanical Integrity Testing
CASE STUDY
PROBLEM
Maverick Resources needed a low-cost, low-power way to monitor water injection wells in the LA Basin to avoid casing leaks and the inefficiencies associated with manual well integrity testing.
SOLUTION
Maverick Installed WellAware Underground Injection Control to monitor casing pressure, tubing pressure, and water injection volumes at 5-minute intervals, with immediate alarms for exceptions over maximum allowable surface pressures.
RESULTS
Maverick reduced their regulatory reporting overhead by 30% by automating manual tasks associated with mechanical integrity testing while also avoiding catastrophic groundwater contamination.
Automating H2S Scavenger Treatment
CASE STUDY
PROBLEM
MarkWest needed to monitor H2S levels and automate scavenger injection to avoid shutting in upstream production of sour natural gas and maintain sales throughput without putting employees in harm's way.
SOLUTION
MarkWest installed WellAware On Demand Chemical with H2S monitoring to alarm on H2S levels above permissive, and increase scavenger injection proportionally to reduce entrained hazardous gas.
RESULTS
MarkWest was able to operate portions of their gas gathering system for years without allowing H2S concentrations to rise above permissive, resulting in fewer safety incidents and lower emissions.
EXPLORE OIL & GAS ASSET MANAGEMENT SOLUTIONS
WellAware's oil & gas asset management platform is designed specifically for harsh and critical oilfield operations.
Every solution we offer is:
Certified for use in hazardous areas
Backed by our lifetime warranty
Ensured by our data reliability guarantee
Enabled with SCADA integrations
Offered with flexible financial packages
REMOTE WELL SITE MONITORING
The best way to reduce safety incidents, prevent fugitive emissions, and lower carbon footprint is to avoid them altogether.
WellAware Remote Well Site Monitoring allows you to remotely monitor and control critical well processes like casing and tubing pressure, tank levels, compressors, separators, and flare systems.
PRODUCTION TANK MONITORING
Tanks are a critical part of oil production and distribution, and constant monitoring is necessary to prevent overflows and maximize production efficiency.
WellAware Tank Level Monitoring lets you monitor continuous levels, track usage, detect custody transfer events, and prevent empties, leaks, or overflows with hi and lo level alarms.
OILFIELD CHEMICAL INJECTION AUTOMATION
Chemicals enhance production, prevent downhole failures, and ensure asset integrity, but proving chemical ROI can be difficult.
WellAware On Demand Chemical monitors chemical tanks, monitors and controls injection pumps, and automates injection processes to hit injection targets and audit chemical vendor performance.
UNDERGROUND INJECTION CONTROL
Produced water disposal often requires burdensome regulatory compliance.
WellAware Underground Injection Control monitors well pressures and injection flow rates, automates mechanical integrity testing, and alerts high pressure events to simplify regulatory reporting and avoid casing leaks.
NATURAL GAS COMPRESSOR MONITORING
Compression is the heartbeat of the natural gas value chain, and operating compressors efficiently reduces fuel costs, ensures safety, and avoids costly shutdowns.
WellAware Compressor Monitoring allows your facilities teams to monitor pressures and gas flow rates to ensure compression systems are operating at peak efficiency.
OILFIELD GENSET MONITORING & CONTROL
In oilfield environments, generators can serve as both primary power sources, or backups in the case of emergency.
WellAware Genset Monitoring and Control allows you to monitor generator pressures, temperatures, and fuel levels, while enabling remote exercise and alarming on critical issues.
PUMP MONITORING AND CONTROL
Transfer pumps, chemical pumps, and injection pumps help operators handle critical liquids in production and midstream operations.
WellAware Pump Monitoring and Control lets you monitor pump power systems, ensure pumps are accurately calibrated, and remotely control pump injection rates.
READY FOR SAFE AND SUSTAINABLE OILFIELD OPERATIONS?
Fill out the form below and a member of our team will reach out to talk about how WellAware can help you measure and achieve your safety and sustainability goals.
SCADA vs IoT for Production Engineers
SCADA may be great for control rooms. But does it work for the modern production engineer? Read the blog to find out.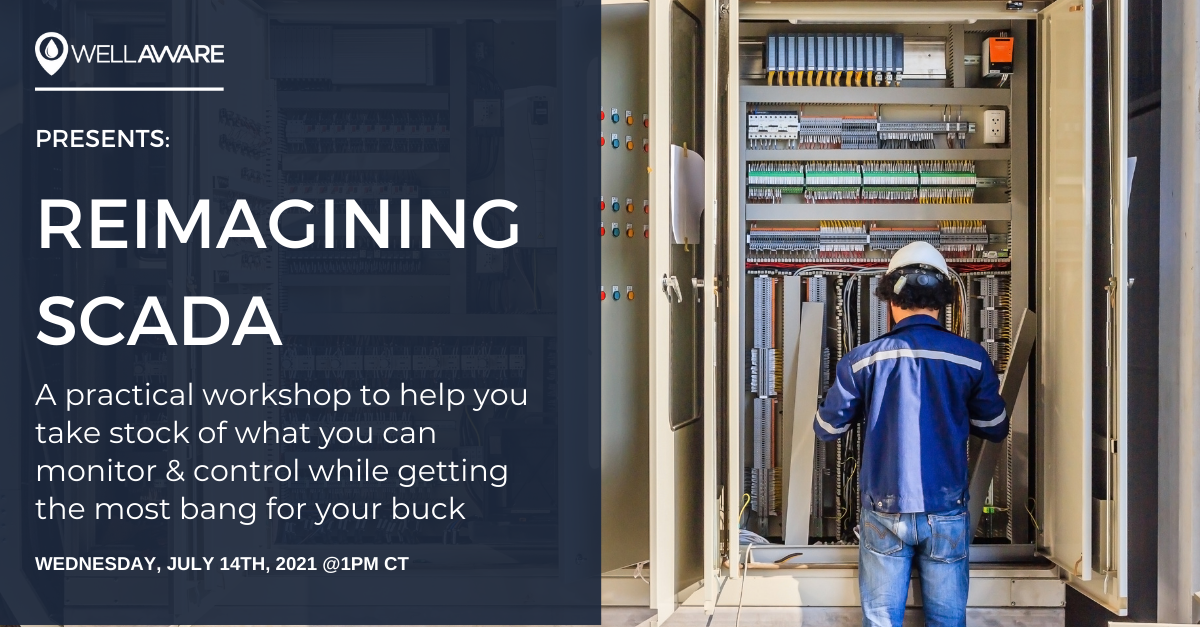 Reimagining SCADA Workshop
Not sure where to get started? Join our workshop on July 14th and learn how to take stock of what you can monitor & control while getting the most bang for your buck.
Frac tank level monitoring tips
Drilling programs are picking back up. Read this guide to learn how frac tank level monitoring can boost your drilling performance.