Remote Pump

Monitoring & Control
WellAware Pump Controllers are the smartest way to prolong pump life and maximize efficiency in commercial and industrial operations.
Monitor diagnostics
Control from anywhere
Automate operations
Ready to
start?
Fill out this form to:
Get more info
Request datasheets
Receive a quote
Speak with an expert
Tailored

pump automation solutions
WellAware offers a pump monitoring and control solution for many industries, applications, and pump types.
Industries
Agriculture
Food & Beverage
Healthcare
Manufacturing
Mining
Petrochemicals
Pulp and Paper
Oil & Gas
Water & Wastewater
Applications
Artificial Lift
Boiler Feed
Chemical Dosing
Enhanced Oil Recovery (EOR)
Fertilization
Fuel Injection
Irrigation
Lift Stations
Sludge Processing
Underground Injection
Water Transfer
Well Stimulation
Types of Pumps
Centrifugal Pumps
Chemical Injection Pumps
High-Pressure Pumps
Irrigation Pumps
Positive Displacement Pumps
Progressive Cavity Pumps
Rotary Pumps
Sewage Pumps
Submersible Pumps
Transfer Pumps
Variable Frequency Drive (VFD) Pumps
Variable Speed Drive (VSD) Pumps
Wastewater Pumps
Water Pumps
Well Pumps
Choose Your Pump Controller
Install the WellAware Connect with a selectable pump controller module for your specific pump.
Commission Your Pumps
Commission your pump in about 10 minutes with Zero Touch Commissioning on the WellAware Field App.
Connect From Anywhere
Monitor pump performance, control setpoints, and get alarms on WellAware apps.
Integrate and Automate
Add external sensors like pressure, flow, and motor current to measure and improve performance.
"WellAware caught two pumps that had lost power. We were able to visit those sites by exception to address the chemical pump issues from the data we gathered from WellAware. If we hadn't caught this issue, we would have missed out on nearly 150 gallons of chemical injected."
– Garrett, Regional Manager at ChampionX
Features that
guarantee reliability
Lifetime Equipment Warranty
Detailed Trending Screens
Certified for Hazardous Areas
Reliable 4G LTE Cellular Connectivity
Third-Party Software Integrations
Smart Text and Email Alerts
How to get started with
WellAware
Our process is straightforward, designed to get you better pump data ASAP.
1. Meet & Assess
No two applications are identical. Before we tell you what you need, we take time to understand what you want.
2. Design & Propose
With your unique requirements in hand, we'll specify sensors, enable comms, and draft a tailored proposal for your review.
3. Build & Deploy
When you like what you see, we'll get to work. We're here for install support, project management, and whatever else you need to get started.
4. Optimize & Achieve
We don't slow after install. Our team makes sure your solution delivers results, and if it isn't, we'll help you get there.
Pump Management Resources
The Basics of Pump Control
Ever wondered how to actually control a pump? We cover the basics of pump control in this video demo.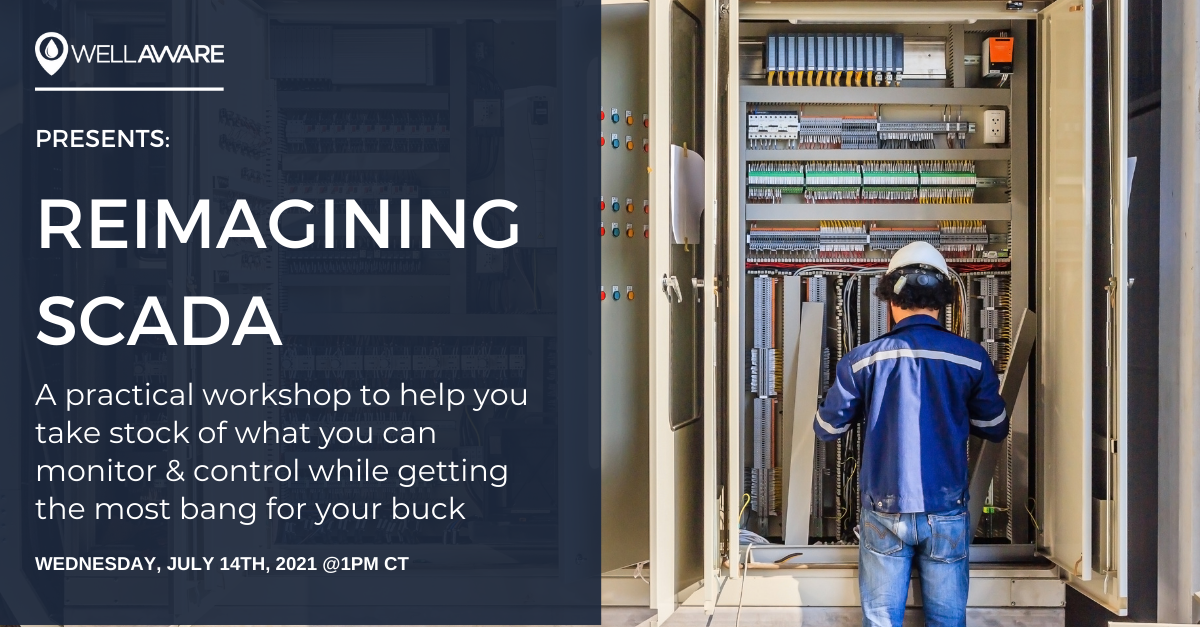 Reimagining SCADA Workshop
Not sure where to get started? Join our workshop on July 14th and learn how to take stock of what you can monitor & control while getting the most bang for your buck.
Pump Efficiency Calculator
Need to calculate pump efficiency on the fly? Let our handy pump efficiency calculator do the math for you.