REMOTE WATER MONITORING – WATER & WASTEWATER
SAFE | EFFICIENT | SUSTAINABLE
WellAware empowers water treatment plants, utilities, and municipal water systems to monitor and control critical water treatment and distribution equipment so they can improve water quality, reduce safety incidents, maintain compliance, and reduce the total cost of water operations.
ACHIEVE SMARTER WATER MANAGEMENT
Water treatment plants and utilities need smarter ways to manage critical equipment. WellAware provides accurate, reliable water treatment equipment monitoring and control that improves critical water operations.
WHY WELLAWARE?
WellAware partners with water treatment plants, municipalities, and utilities companies to create a strong data foundation that leads to increased worker health & safety, better customer service, more sustainable practice, and better operational efficiency.
We help water companies get smarter in these key areas:
WATER QUALITY MANAGEMENT
WellAware helps water & wastewater treatment companies monitor, control, and improve water quality.
Our technology can be used to monitor water quality, optimize chemical treatment, improve odor control, and automate water tanks and pumps.
EMPLOYEE HEALTH & SAFETY
WellAware keeps employees and contractors safe by allowing water facilities to operate by exception.
Our platform reduces windshield time, minimizes fall risk, alerts to the presence of hazardous gas, and reduces overall incident rates and near misses.
PUBLIC ACCOUNTABILITY
WellAware helps water utilities avoid public water crises and provide continuous, high-quality water to their customers.
Our technology tracks water quality, ensures critical systems stay online, and notifies operators of risks to water service interruptions.
RESOURCE USE
WellAware empowers water treatment facilities to eliminate waste and reduce their energy consumption.
Our technology optimizes chemical use, reduces power consumption, and extends equipment life.
OPERATIONAL EFFICIENCY
WellAware helps water companies reduce costs and eliminate operational complexity through real-time visibility.
Our platform is built to provide reliable, accurate water management equipment monitoring and control that boosts efficiency.
SUSTAINABLE WATER USE
WellAware is designed to help water companies measure, achieve, and report on material sustainability metrics.
Our technology reduces greenhouse gas emissions, eliminates waste, lowers energy consumption, and improves worker safety.
REGULATORY COMPLIANCE
WellAware keeps water operators in line with regulatory requirements so they can avoid fines and remediation.
Our technology automatically measures and reports on critical regulatory KPIs so that water companies can focus on operational performance.
EXPLORE WATER MANAGEMENT SOLUTIONS
WellAware's platform for water and wastewater treatment operations is designed to provide ultra-reliable, high-resolution data streams even from the harshest and most hazardous environments.
Every solution we offer is:
Certified for use in hazardous facilities
Backed by our lifetime equipment warranty
Ensured by our data reliability guarantee
Enabled with third-party software integrations
Offered with zero capex pricing
WATER MONITORING AND CONTROL SOLUTIONS
Level Monitoring
Water Tank Levels
Dam Levels
Septic Tank Levels
Chemical Tank Levels
Rainwater Retention Levels
Lime Silo Levels
Sludge Tanks
River and Stream Levels
Lift Station Levels
Power Monitoring
Pump Voltage & Current
Equipment Energy Consumption
Pump Monitoring & Control
Water Pump Control
Discharge Pressure
Water Flow Rate
Pump Efficiency
Process Instrumentation
Existing PLCs and RTUs
Annunciator Panels
System Faults & Warnings
Chemical Injection Automation
Chlorine/Fluoride Control
Ferric Chloride
Coagulants
Flocculants
Hydrogen Sulfide Control
Odor Control
Water Quality Monitoring
Chlorine Concentrations
Ammonia Concentrations
TSS/TDS
pH Control
Chemical Oxygen Demand
Dissolved Oxygen
Pressure Monitoring
Pipe Pressure
Leak Detection
Biogas Storage Pressures
Flow Monitoring
Effluent Flow Metering
Primary Treatment Flows
Sludge Gas Flows
Open Channel Flow Monitoring
READY FOR SMARTER WATER MANAGEMENT?
Fill out the form below and a member of our team will reach out to talk about how WellAware can help you measure and achieve your water management goals.
News for Water & Wastewater
How to remotely control pumps
Ever wondered how you could remotely control your water treatment pumps? Watch this video to learn how to remotely control any type of pump!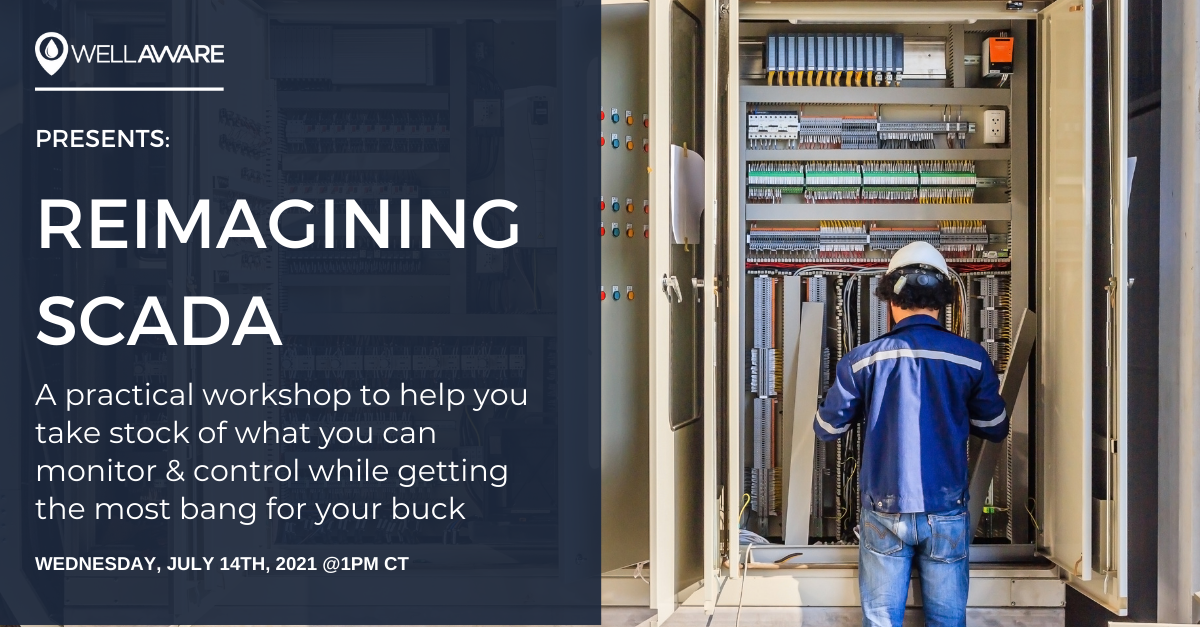 Reimagining SCADA Workshop
Not sure where to get started? Join our workshop on July 14th and learn how to take stock of what you can monitor & control while getting the most bang for your buck.
Water tank monitoring basics
Need to monitor water levels in your tanks? Here are the 7 steps to successful water tank level monitoring.